A collection of Gothic vampire choker necklaces to suit any costume or Gothic attire.  These 5 Gothic chokers were designed to serve any style you may be going for; to compliment any Gothic, medieval or sexy ensembles.  Suitable for Halloween or anytime.
The company Alchemy was established 33 years ago in England, and has been crafting its own unique English Pewter products.  They use some of the highest quality pewter, with each Gothic choker necklace hand-crafted in intricate detail.
Vampire Costumes Store is proud to offer Alchemy Gothic chokers in stock locally in the United States.
Black Velvet Choker
You will sure grab attention with this sexy black velvet choker.
A giant, silver spider of finished pewter is sewn on the front of this beautiful, 100% cotton lace, with 3 black crystal droplets. Comes equipped with flexible fitting button fastener.
Goes well with any Gothic vampire costume of freaky Gothic gear.  Click here to learn more about the black velvet choker.
Vampire Blood Necklace
If your a woman looking to hypnotically seduce & charm a man into a compromising or dangerous situation, then this Vampire blood necklace is for you.
A stylish symbol symbolizing a bite mark, and blood dripping down the neck.  Featuring dangling blood-red studded Swarovski crystals on a satin & bead necklace.
This stylish Vampire Blood Necklace The perfect necklace to wear out for the night if you feel like being the prey.
Crystal Gothic Choker
A fascinating silver piece with intricate detail.  Featuring two angelic-like beings, a green Swarovski crystal with high-level transparency, classy bow-tied black ribbon and dangling skull pendant & black crystal droplet.
This piece works great with any sophisticated vampire dress, gown or Halloween costume.
Click here to learn more about this crystal gothic choker.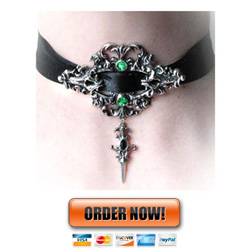 Sexy Vampire Choker
The perfect addition to any vampiress costume, or gothic ensemble.   This sharp, vicious & sexy Vampire choker will allow you to gather your mortal prey upon command!
The sexiest of all Gothic vampire chokers —  featuring a lavishly delicate, yet beautifying jugular adornment, thus concealing the fang scar punctures beneath.
Coupled with a black satin, floral jacquard ribbon, with adjustable metal fastening.
Any Vampiress will lure in the sexiest of Vampire men while wearing this sexy vampire choker.
Tzarina Choker
Part queen, part Goth, part vampire — All beautiful!
An extravagant decorative frame exhibiting a provocatively large blue crystal, decorated by an arrangement of sleeping bats, equipped with black-ribbon ties.
This beautiful vampire choker gives off the impression of a Tzarina; which is the 'queen' of Imperial Russia.
Filed under: Vampire Jewelry
Like this post? Subscribe to my RSS feed and get loads more!