Lestat Contact Lenses – Blue Vampire Contacts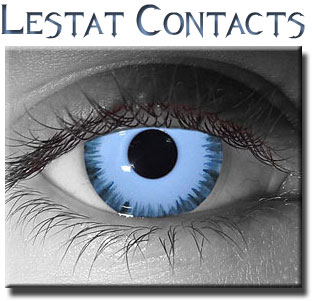 He's everybody's favorite vampire!  His name is Lestat, and his charming, yet chilling blue eyes will hypnotize you… leaving you helpless and in his grasp.
These Lestat contact lenses gives off a cold & piercing look grabbing anyone by the soul.  You can either fear his stare, or fall in love with his stare — but either way, he will drink your blood, take your life, and turn you into a vampire.
The Lestat contact lenses feature a sky-blue color iris & black outer ring.
Makes a perfect costume fit for any Vampire, Ghost, Greek God, mythological creature or Gothic freak.
Wear these blue vampire contacts for Halloween or just a night out in the town.  Lestat  contact lenses can enhance many characters or creatures you may be playing in movies, stage or any other theatrical arts.
Comes Available for both prescription & non-prescription versions.  Prescription versions range from -6.00 to -0.25.  Important: Ensure to select 0.00 for all non prescription orders.
Go here for the prescription vampire contacts and also the non prescription vampire contacts.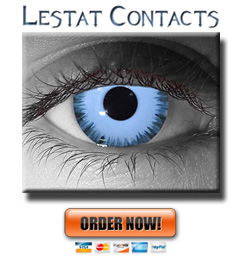 Lestat – Interview With The Vampire
Interview with the Vampire is a fictional vampire book published in 1976 by Anne Rice.  The film version was created in 1994 with the same title starring film stars: Tom Cruise, Brad Pitt, Antonio Banderas, Kirsten Dunst, Christian Slater;  and Directed by Neil Jordan.
The Plot
Lestat (Brad Pitt), tells his vampiric life story to Daniel Malloy (Christian Slater) in an intense epic tale of love, betrayal, isolation, pain & hunger.
The Story
Louis, a plantation owner loses his wife and unborn child during pregnancy.  He tries to live on, but can't seem to find the strength to do.  He has lost all faith in God and is not longer willing to live without his dead wife & child.
Vampire Lestat finds Louis and takes him in — telling him that he can pluck out his pain, promising him a much better life, one with ultimate power and eternal life.  Hence, the life of the vampire.
Louis soon accepts Lestats offer.  Lestat then turns Louis from mortal to immortal.  However, Louis morals make it hard for him to accept the Vampiric lifestyle.
They soon adopt a little girl which bring about more challenges in the story.
Filed under: Vampire Contact Lenses
Like this post? Subscribe to my RSS feed and get loads more!