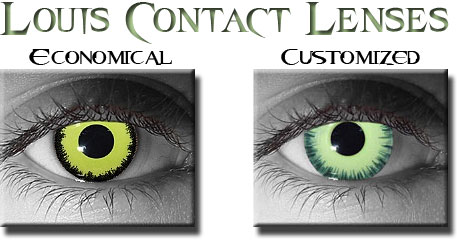 Louis Contact Lenses
Brad Pitt charmed the movie going world by playing Louis in the 1994 film Interview with a Vampire.  He did Anne Rice's 1976 novel justice with his charming good looks, and hypnotizing light green eyes.
The Louis Contact Lenses available for Prescription & Non Prescription, are now available in two different makes — an economical and customized version to meet the needs of every person.
Read below to get an overview of each one of these Interview With A Vampire Contacts Worn By Brad Pitt In Movie, and to find out which one would be most suited for you.
Customized Louis Contacts
Slip these beautiful & sexy Vampire to experience what it means to be a real Vampire.
If you want to really play the part… if you really want to command respect… and if you really want people to question whether your eyes are TRULY evil or not, then the Louis contact lenses should be your prime selection.
Highly professional and custom made for all the serious Vampires in the world.
Wear for your next movie production, theatrical production, costume party, Halloween, or anywhere where you want the ultimate attention!
Can also be utilized as an excellent sexual role-playing tool with a lover or partner.  Makes it easier to tap into different characters, when you transform your eyes drastically.
Manufactured for both prescription & non prescription versions.  Prescription lenses range from -6.00 to -0.25.  Remember to choose 0.00 for all non-prescription versions.
Learn more about these sexy interview with a vampire contacts, and it's base curve & diameter dimensions.
Pair these Louis contact lenses with our real Vampire teeth for ultimate sexy, chilling & realistic effect.
Economical Louis Contacts
Not as customizable as the above contacts, but you will find that these lenses make a great fit with many of our Vampire costumes.
Goes great with many of Gothic, Victorian & other sexy costumes — for both men & women.
Wear these chilling green interview with the vampire contact lenses any Halloween costume parties, Gothic clubs, or anywhere where you want to make an impact.
Available in prescription versions -0.25 to -6.00.  Select 0.00 for any non prescription orders.
Filed under: Vampire Contact Lenses
Like this post? Subscribe to my RSS feed and get loads more!