Vampire Wigs For Men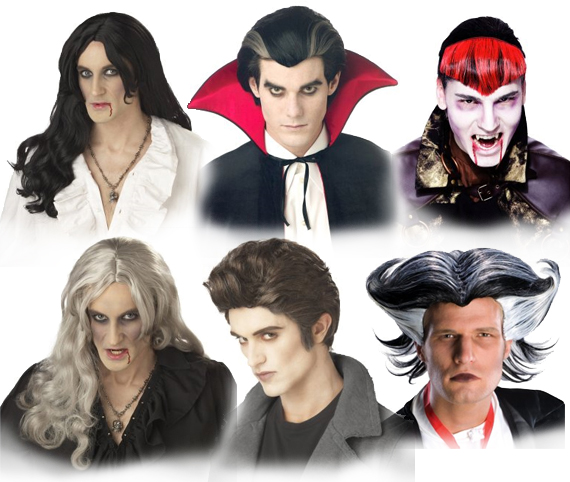 Sometimes after putting on those dark Gothic clothes, slipping in those fangs, and painting a pale face, you still feel like your missing that extra something.
A Vampire wig can be the finishing touch any type of vampire look you may be going for.  Whether your looking to role play, dress up for fun, or attend a costume party,  here you will find many different styles & colors.
From dark, grey, white, black, red, modern, Gothic or old world; we serve many flavors of Vampire wigs for Men.  Read below to learn about all our styles and colors.
Twilight Wig
All girls want to be bit by him. Guys either want to kill him, or look like him.
This is the perfect Vampire wig to dress up as, and emulate Edward from the Twilight film series.
A combed back full bodied style brown wig with hints of gray.
Wear to your favorite costume party.
Available in one size fits most adult males.
Come learn more about the Twilight Wig.
Dracula Wig
"The blood is the life… and it shall be mine" ~ Dracula
Don't let his charm fool you.  He's pure evil and he's thirsty as hell!
This is the classic count Dracula wig.
Featuring a combed back Black hair-style with Silver-white streaks.
Makes a great addition to any vampire costume.
One size fits most adults.
Vampire Devil Wig
He's part Devil, part Vampire, All EVIL!
Whether you're a treacherous devil sporting' out a new look or a sneaky vampire on the prowl for fresh blood, the Vampire Devil wig makes a perfect fit!
This wild wig features a red widows peak bang styled hairpiece.
Wear out to any costume parties or to your favorite Gothic clubs.
Go here to learn more about the Vampire devil wig.
Victorian Vampire Wig
He's been around for centuries and killed more mortals than you can count to.
This ancient vampire has been claiming victims for a long time, and doesn't plan on stopping!
Get your Old World Vampire look with this Victorian Vampire wig.
Featuring long grey wavy hair with with off-centered partition.
Visit here to learn more about this Victorian Wig.
Modern Vampire Wig
A Vampire on a mission  that has taken his hair-style to a whole new level.
A black & white wig coming to sharp & piercing styled points protruding from the sides and fraying out from the back.
Wear to make a statement at your next Halloween party.
Available in adult sizes.
Come learn more about our modern Vampire wig.
Long Hair Vampire Wig
An old-fashioned Vampire with a biting stare that will stop at nothing until he feeds.
He wears his long hair with pride, and so shall you with any type of Victorian Vampire costume or outfit.
Black wavy long hair that comes below shoulder length.
Available in Adult sizes.
Visit link to learn more about the long hair vampire wig.
Filed under: Vampire Wigs
Like this post? Subscribe to my RSS feed and get loads more!