Real Vampire Teeth – Retractable, Customizable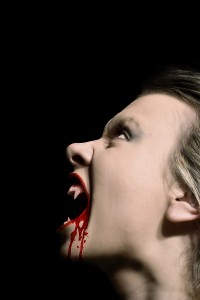 If your looking to dress up this Halloween as your favorite monster or looking to scare the bejesus out of your friends or loved ones, retractable real vampire teeth makes the perfect add-on to any costume, scary story, or practical joke.
Just imagine staring someone in the eye and then seeing sharp fangs magically growing from underneath their upper lip.
These are new & innovative fangs, that when combined with our vampire costume ideas & costumes — are guaranteed to drop jaws and widen eyes.  Retractable & customizable real vampire teeth that will shock and make heads spin in wonderment in how people are performing this cool act.
These are the types of special effects only witnessed in movies, until now.  So, you too, can now partake in this illusory act to impress your friends, and scare your mortals prey.
These teeth are not real in the sense of being real teeth, however they're real in the sense of being the most realistic looking vamp teeth in the costume industry.  Having a certain theatrical quality to them and are considered by many as being a lot of fun to wear.
Whether your wearing them for stage, acting, film, Halloween costumes, role-playing, or just for goofing around the house, they are sure to bring about a smile or a frightened face, which is all in good fun.
Goes well with many different vampire looks — Goth, sexy, scary, Victorian, etc.
These sharp fangs have a magnificent look and feel.  A customizable fit that you can really sink your teeth into.  Easy to use & customize.  You can fit them to your mouth in less than five minutes.  No sticky glue or adhesive.  You can slide them in and immediately be on the prowl for prey.
Just imagine having the power & strength of a vampire with the ability to make your retractable fangs appear and disappear at will.
This could be done in five easy steps:
Custom Fitting-Place vampire teeth into bowl of hot water for 3 min. to soften the material within the tooth depression.
When softened, insert vampire teeth into mouth aligned with tooth depression.
Slowly bite down and evenly position tooth depressions along back molars and keep in place until plastic material hardens and conforms a perfect match to your teeth.
Take mold out of mouth and hold under cold running water to further harden the plastic material.
Insert the teeth back into your mouth and align them with your back molars.  Now, slide tongue back & forth to control bar to protrude and retract teeth.  That's it, You're DONE!
If it doesn't come out to your desired shape or liking, you can reheat and reuse the mold until you get it right.
Click on video on top of this page to watch For A Full Description Of Our Retractable Real Vampire Teeth – or click directly above to order your set now.