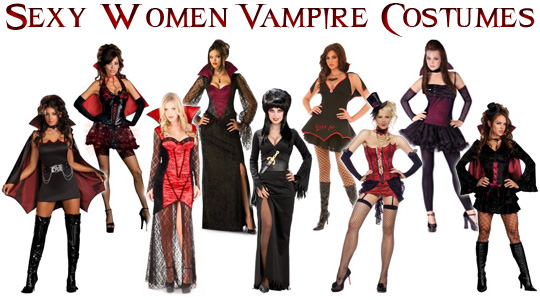 The time has come for the Vampiress woman to claim their stake in the Vampire world, and of all immortals — thus exemplifying their true beauty, sexy nature, and raw psychic & mental powers.
It is no secret that Vampire women can command & subdue mortal prey with more ease & deception than immortal Vampire man.
So intensify your sexiness and Vampiric female powers with a wide variety of some of our Sexy Vampire Costumes For Women.  From stretch lace dresses, Tight Fitting Skirts, Slit-Leg Velvet Gowns, and Sultry Lace Sleeves — you can be sure to find a Sexy Vampire Costume that will feed your evil desires, and have men bowing at your most sinister commands.
Sexy Velvety Voluptuous Vampiress
An electrifying costume for a blood-thirsty beauty!
Considered the sexiest of of all sexy women Vampire costumes, they'll come begging you for a nibble while wearing this sexy dress.
This attractive costume features as a red & black velvet dress, stretch-mesh, bunched satin material, girdle-top with Gothic cross designs on delicately padded under-wire cups.
Also equipped with classic vampire collar, and laced-up lower-back to accentuate your beautiful curves.
Available in All Adult Sizes: Small, Medium, Large and X-Large.
Click on image to view a 360-degree rotation video of this sexy woman vampire costume.
Sexy Love At First Bite Costume
WARNING!  Mortals Beware!  She's dressed to kill… Literally!
Her tantalizing beauty will lure men in like a spider with flies.  This is her technique for getting a quick kill.
You may fall in love at first site, but will soon be the victim of love at first bite.
The Love at first Bite Vampire costume includes a red and black girdle-top, mini-skirt with fastened garters, back-side zipper closure, neck-choker, and miniature top-hat with bat styled embellishment.
Includes: Corset Top, Mini-skirt & Garters, Neck-Choker & Top-Hat.
Click on order button to learn more about sizes & measurements.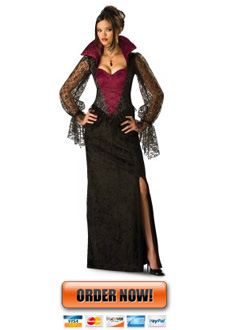 Sexy Elite Velvet Gown
She's dressed to th e 9's, and ready to take on the night!
She's a blazingly blood-sucking beauty of the Vampire elite — and sends out her minions to deliver her mortal prey.
This gorgeous burgundy & black velvet gown is most befitting for her elite status.
This beautiful & sexy elite velvet gown features lace overlay along the side-bodice, laced-up detail, sultry mesh-laced sleeves, eminent stand-up collar, and above-knee sexy leg-slit.
Wear for Halloween, or anytime and anyplace you want to command the respect you deserve!
Available in Adult women sizes: Small, Medium, Large, X-Large, Plus-Sizes.
Sexy Mistress Costume
She doesn't like to bite, but she loves to nibble all night long!
Slip into this captivating & sexy mistress vampire costume to charm your way into the arms of your next mortal victim.
This red & black lace-trimmed costume features a laced-up bodice, red lace peplum, bat-wing styled scrunch-skirt, and fashionable stand-up vampire collar.
Available in Adult Female Sizes: Small, Medium & Large.
Includes: Dress & Collar.
Top-hat, underskirt, stockings, and high-heels sold separately.
Click on image to get a 360-degree video view of this sexy mistress costume.
Sexy 'Bite Me' Costume
A naughty Vampiress up to her naughty ways!
Not only does she have a lust for blood, but this naughty vampiress also loves to be lusted after!
This sexy 'Bite Me' costume includes a black dress with red trim, and a black vampire-bat necklace.
This ensemble is sure to hypnotize your victims with just one glance!
Pair our sexy bite me costume with your partner for a sultry couples theme for Halloween, your next costume party, or to steam up your sex life!
Available in all adult women sizes: Small, Medium, Large, and X-Large.
Includes: dress & vampire necklace.  Stockings, petticoat & boots sold separately.
Sexy Light Up Vampire Costume
How about some eye-candy before turning immortal!
She's a blood-sucking beauty that's ready to light up your eyes right before draining you of blood.
This unique and eye-catching ensemble is a gloss stretch knit halter dress with laced ascot, jewel detail design, attached organza skirt with pretty red fiber-optic lighting with concealed pocket for on/off switch.
This sexy light up costume also comes equipped with a black/red satin reversible cape, faux-vinyl waist bodice with adjustable front lacing.
Available in Women Adult Sizes: Small, Medium, Large X-Large.
Includes: dress, cape, corset, vampire teeth, and batteries.  Stockings, gloves & shoes sold separately.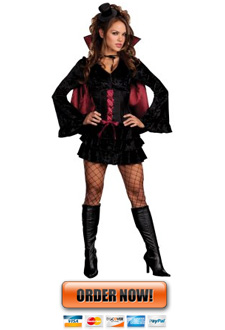 Sexy Black Vampire Costume
She's ready to take on the night, and will stop at nothing until she feeds!
She's hungry, and can smell the blood pumping through the veins of mortals — so be careful not to turn away because she'll come in for a quick bite.
A sexy black vampire costume that includes a ruffle-styled hem knit dress, and bell-bottom long sleeves.
Featuring a satin waist with blood-red ribbon, miniature top-hat, and mini-cape with classic stand-up vampire collar.
Click image to get a 360-degree video view of this costume
Includes: Dress, Waist, Hat, Cape/Collar.  Stockings & shoes sold separately.
Sexy Cape Costume
The most befitting costume for the Vampire chick out on the prowl for some fresh blood!
After slipping on this sexy cape costume — you'll even be saying ooh-la-lah!
Many human mortals think her sexy cape is for show, but its actually to envelop fresh prey, and sucking them dry.
This sexy cape costume features a black stretch knit dress material with contrasting burgundy bat-winged edged neckline.
Includes a wicked satin burgundy & black stand-up vamp collar, a hip-length detachable cape with bat-winged edge design, a pentagram belt with hanging chain detail, a sexy silver-ring choker, and vampire fangs to top off this provocative ensemble.
Available in adult sizes: Small, Medium, Large, Plus size
Vampalicious Vampire Costume
She's more than delicious… she's Vampilicious!
Mortal humans will be begging to be bitten by her.  And she will not fail to succumb to those overwhelming desires.
Just be prepared to break many hearts with this alluring & hot vampire costume!
Includes a tight-fitting drop waist dress with a black tulle tutu skirt, black lace sleevelets, black sheer thigh highs, and a black choker with fastened stand-up vamp collar.
Available in Women's Adult Sizes: Sm., Med. & Lg.
Includes: Waist Dress, Lace Sleevelets, Choker, Collar and Stockings.  Jewelry & Shoes sold separately.
Learn more about this hot vampire costume.
Sexy Elvira Costume
We have saved the best for last!  She's the queen of all Vampire women!
She's that gal with the enormous…. ratings.  That gal that put the Put the Boob Back in the Boob Tube.
Goth women want to be her, and all men want to be with her.
You know her as Elvira, the Mistress of the Dark and she is without question the sexiest of all Vampire women.
Elvira Costume features as a spooky. yet sexy classic Goth-styled full-length black dress with torn fringe sleeves & hem.  And a satiny black belt with a golden scabbard buckle & dagger.
Slip into the sexy Elvira costume, and let let your inhibitions run wild!  And be prepared to break hearts… drop jaws… and make heads spin.
Filed under: Vampire Costumes For Women
Like this post? Subscribe to my RSS feed and get loads more!