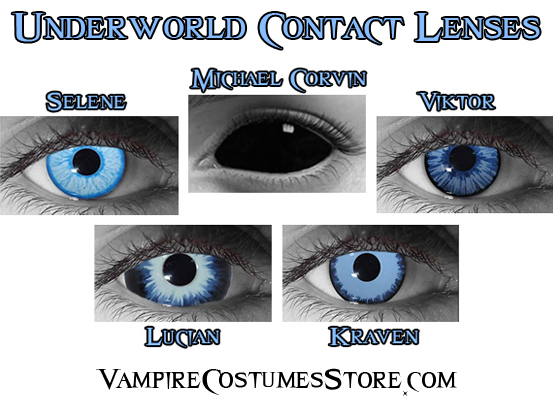 Underworld Contacts
There the Vampires everybody wants to be.    Now you can capture the same look as Selene and the rest of the death dealers with the Underworld contacts.  In addition to the Vampires, we also have the Lycans(Werewolves) & Hybrid contacts.
Below are all five Vampire, Lycan & hybrid underworld contacts.  You will find that these are of the highest quality in the special effects industry.  Designed with fine detail and customized to each specific character from the movie itself.
Available in both non prescription and prescription versions.
Hybrid Contact lenses
He's half Werewolf & half Vampire,  but even more powerful than both!
Michael Corvin has the necessary gene that enables him to maintain & harbor the blood viruses of both Lycans & Vampires.
The transformation into these hybrid contact lenses happen when both viruses are fused together — first by being bitten by Lucian(Lycan) and then by a Vampire(Selene).
The power he now possesses is unlike any other creature can harbor, taking the best physical attributes of Vampires & Lycans, thus combining them into a hybrid being.
These all black contacts cover the sclera part of the eye.
These black Lenses are available in non prescription & prescription powers.  Select 0.00 for all non prescription orders.
Click image above to find out more information on these all black contacts.
Selene Contacts
She may be beautiful, but she's also one tough chick!
Her name is Selene, with her black skin tight suit and sky blue eyes, she will stop at nothing until she rids the world from Lycan.
These sexy custom Selene contacts may cause others to experience "love at first site".
Featuring a sky-blue color iris with a vessel-like design branching out from the outside of a darker blue pupil.
Wear these mesmerizing & attractive Selene Underworld contacts for Halloween, to crawl to city streets or to role-play with your lover.
Selections include both non prescription & prescription versions.
Follow link for more information on the Selene underworld contacts.
Viktor Contacts
Viktor now rules, and he is holding no punches!
During Victor's ruling, all Vampires flourished, and Lycans served as the Vampires slaves and night guardians.
These underworld contacts are highly customized with fine & precision detail.  Featuring three different tones of blue,  a slash & torn gaze of ferocity, enclosed in a thin black limbal ring for an evil and powerful effect.
Wear the Viktor contacts to project ultimate strength & power.
Prescription & non-prescription availability.
Follow link to learn more of the Viktor contacts.
Lycan Contacts
Lucian and his werewolf clan are rising up against Viktor and the Vampires.   They are tired of being enslaved and acting as the night guardians for the Vampires and are now looking for freedom!
The most ferocious of all werewolf contact lenses, these eyes convey the grudge that Lucian and his clan of Lycan have toward the Vampire alliance.
These Lycan contacts feature a sophisticated design certain to scare the bejesus out of any creatures, Vampire or human!
Wear these anytime -or- any place you feel like scaring the hell out of people.
Come in both non prescription & prescription versions.
Learn more about the Lycan contacts.
Kraven Contacts
Romantically pursuing Selene, conspiring with arch enemies, and his lust for power are what make Kraven the antagonist everyone loves to hate.
These Kraven Underworld contacts feature a dodger blue color with a filament styled black outer ring giving it an |incisive stare.
Wear these to play the bad guy in any movie or play.  Also pair with your favorite Vampire Halloween costume.
Available for prescription or non-prescription orders.
Here is a short video clip from the underworld movie showcasing all the characters contact lenses.
Filed under: Vampire Contact Lenses
Like this post? Subscribe to my RSS feed and get loads more!