Vampire Capes For Women
A compilation of some of the sexiest & scariest Vampire capes for women – offering a wide variety of styles & colors.  From red to black and creepy to Gothic, there's a cape suitable for any woman vampire.
You will certainly get noticed wearing one of our capes to any costume parties.
So drape your cape over your favorite black or red dress.  Put in your vampire fangs, slip in your fishnets & high heels — cause now your ready to get into trouble.
Below is a detailed explanation of each one of our featured women vampire capes.
Black & Red Hooded Cape
An ultimate vampiress look for the ultimate blood-thirsty woman.
A long black & red hooded cape with an ombre styled bottom.
A traditional red & black look  to pair with your favorite vampiress Halloween costume.
100% Polyester – Available in One Size Fits Most Adult Woman
Click here to learn more about the red & black hooded cape.
Sexy Vampire Cape
She's not only sexy, but she's also very hungry!
This provocative cloak is a perfect fit to envelop & conceal human-mortal prey while you feed on their blood.
Featuring a reversible red & black tall-collar cape with adjustable string clasp.
Available in One Size Fits Most Women.
Click here to learn more about this sexy vampire cape.
Gothic Vampiress Cape
She's the Female version of Count Dracula, but with one subtle difference… she bites a lot harder!
A classic styled cloak made from a black satin-like fabric with red collars.
Combine with your favorite red or black dress for Halloween or your next costume party.
Made from 100% Polyester – 56 inches long and fitting for most women
Visit here to learn more about our Gothic Vampiress cape.
Black Velvet Cape
A simple black velvet cape for a simple bloodsucker!
This saucy little cloak makes a perfect fit for a witch, vampiress, Gothic or renaissance costume.  Featuring a velvet-styled black cape with collar and conformable tie that drops just below the ankle.
Wear with your favorite black dress & shoes.
This beautiful black cape measures 43 inches in length.
100% Polyester – Available in Adult Size
Click here for more information on the black velvet cape.
Creepy Cape
A haunting, mysterious & creepy cape that adds a certain element of attraction!
This cape blends well with Vampire, witch, ghost, medieval,  renaissance or graveyard costumes.
Features a ripped, ragged & frayed cryptic gray cape with attached hood.
Wear for a costume party or for any of the theatrical arts – plays or stage performing.
Cape Length is measures 63 Inches.
100% Cotton – Available in One Size Fits Most Adult Woman
Come learn more about this creepy cape.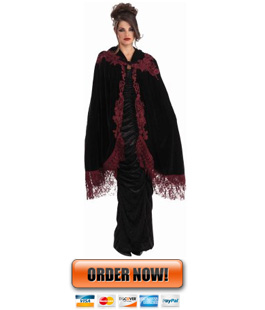 Victorian Cape
A beautiful Victorian design that will make all mortal men submit to your power!
Whether you're a charming & enticing old-world vampiress or a powerful Victorian lady, this is the perfect addition to complete your Vampiress look this Halloween!
This beautiful black Victorian cape features an intricate design, and burgundy lace trim.
Available in One-Size fits most Adult Women.
Red Velvet Cape
A cape for him or her!  And a top choice for older Vampire couples.
This lovely unisex red velvet cape makes for an awesome couples costume.
Featuring ties at the collar and is approximately 44 inches in  length.
Available in One size fitting most adults
Come learn more about our red velvet cape.

Filed under: Vampire Capes
Like this post? Subscribe to my RSS feed and get loads more!