Vampire Make Up
Vampire Make Up Kit
Graftobian offers the ultimate vampire make up kit.  Special effects, theatrical & professional grade makeup.  Graftobian is known for its high quality & consistency throughout the film & TV industry.
In addition to the TV, film,  & theatrical industry, Graftobian conforms to daily worn make up that blows away any other competition.
So, if your in the market for vampire make up for that dark & deadly look or that Gothic look & feel, then the Graftobian make up kit is your perfect solution.
Description:
Transform into a deadly night creature or a Gothic freak with a Vampire kit which includes: eye-liner, realistic blood gel, make-up brush, 1 ounce of vampire creme color wheel, 3 latex sponges, powder puff, &  face powder to set make-up and prevent smearing.
Vampire makeup kit also includes full application instructions to get that professional special effects look as seen in the photo above.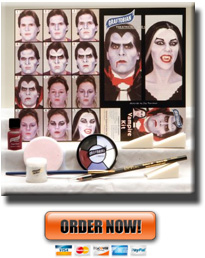 Wear this makeup with your favorite vampire costume or Gothic gear.  Paint your face as a sexy or evil vampire or vampiress, boy or girl, men or women.
Pop in your favorite vampire fangs to complete the look of a realistic, professional & movie-star quality vampire.
Whether you wear the Graftobian vampire makeup to a Halloween party or a Friday night out with your Goth friends, you'll be playing the role you have always desired.  Visit image above to learn more about this professional vampire make up and to read some of the customer reviews.
Vampire Makeup Remover
The parties over and it's now time to come clean.
Graftobian offers a fragrance free Make Up Remover which is the perfect solution for removing a creme based make up.
This remover is gentle on skin, but strong enough to get rid of dense foundations, face-make up, glitter, etc.
Available in 2oz. bottle
Click on image to learn more about Graftobian Makeup Remover.